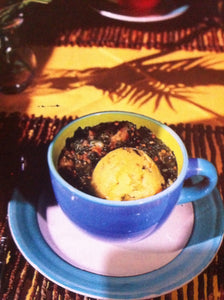 Kallaloo - Virgin Islands Style Ingredients 1 large ham bone, with meat attached (may substitute with seafood) 1 16-ounce package frozen cut okra 2 medium-sized onion, chopped 3 stalks celery, chopped including green leaves 2 tablespoons chopped parsley 1 teaspoon dried thyme leaves 2 cloves garlic, chopped 1/2 pound boned flaked fish or combination of fish and crabmeat 1 16-ounce package frozen chopped spinach or 1 10-ounce package of Swiss chard, chopped 1 1/2 cup chopped fresh cilantro 1 tablespoon vinegar Salt, pepper and additional seasoning to taste Instructions Place ham bone in a large soup pot. Add water to cover bone....
---
Virgin Islands Painkiller Drink Recipe from Soggy Dollar Bar Ingredients 2-4 oz. of Pusser's Rum 4 oz. pineapple juice 1 oz. cream of coconut 1 oz. orange juice Grated fresh nutmeg  Instructions In a cocktail shaker filled with ice add first four ingredients and stir.  Pour into cocktail glasses and top with grated nutmeg. Enjoy! Serves 1-2
---
Virgin Islands Peanut Punch Recipe by Virgin Islands Recipes Ingredients 4 tbsp Peanut Butter 2 cups milk (mix whole milk and evaporated milk to your liking, or can substitute with almond milk) 2 tbsp sweetened condensed milk 1/2 tsp nutmeg 1/4 tsp cinnamon Instructions Combine all ingredients in blender Mix well Chill & Serve
---
Local Island Dumb Bread Recipe from Virgin Islands Cooking by Carol Bareuther ISBN 0-9631060-6-6 Ingredients 3 1/3 cups all-purpose flour 2/3 cup water 1/3 cup sugar 2 tablespoons evaporated milk 1/3 cup margarine or butter 1/3 cup shortening 3 tablespoons baking powder 4 tablespoons dried shredded coconut, if desired Instructions In a large mixing bowl, combine ingredients to form a dough.  On a floured surface, knead the dough until smooth, or about 10 to 15 minutes. (Dough will be somewhat stiff.) Roll into a ball, then flatten slightly with the palm of the hand. Place loaves on a greased baking...